Answered By: Peter Z McKay

Last Updated:

Oct 16, 2015

Views:

108122

BESS: BLOOMBERG ESSENTIALS ONLINE TRAINING PROGRAM

Locations:
Library West, Third Floor. Ask at the Reference Desk for sign-up and logon.
Capital Markets Lab. Hough Hall (Business Graduate Students only)
Heavener Hall (Business Undergraduates only)
CORE PROGRAM
MARKET SECTOR PROGRAM
MARKET SECTORS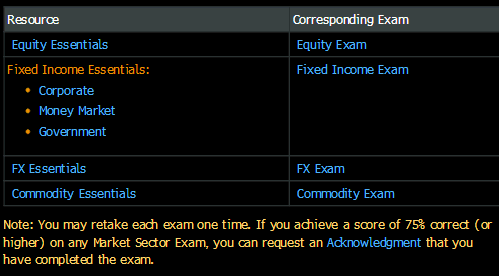 CREATE A PERSONALl USERNAME and PASSWORD
Launch Bloomberg
Press the Red CONN/DEFAULT key on the upper right on keyboard
When the username/password option appears, you will see tp the right, in blue, a flashing message telling you how to set up your own username/password - by leaving the fields blank and hitting the <GO> key (Green Enter key)
You will be prompted to enter your name and create a username/password. Bloomberg must validate you before you can proceed. Choose how you want to receive your validation code: SMS Text Message is the preferred option. You can also select your mobile phone.
Once you receive your validation code, enter it into Bloomberg; once it is successfully received, you will be prompted to complete a few additional informational questions.
Each time you use Bloomberg to take a session, you will need to login using your personal username/password;
DO NOT USE THE UFL USERNAME/PASSWORD.
Note: You are not allowed to re-take any exams.

Tip: take advantage of the double screens to look up answers to the exam questions while taking the exam. It is highly recommended that you take the exam immediately after completing watching the video rather than waiting.
QUESTIONS
HELP HELP - click the green HELP key twice (upper left, keyboard) and email Bloomberg Support.
Links & Files